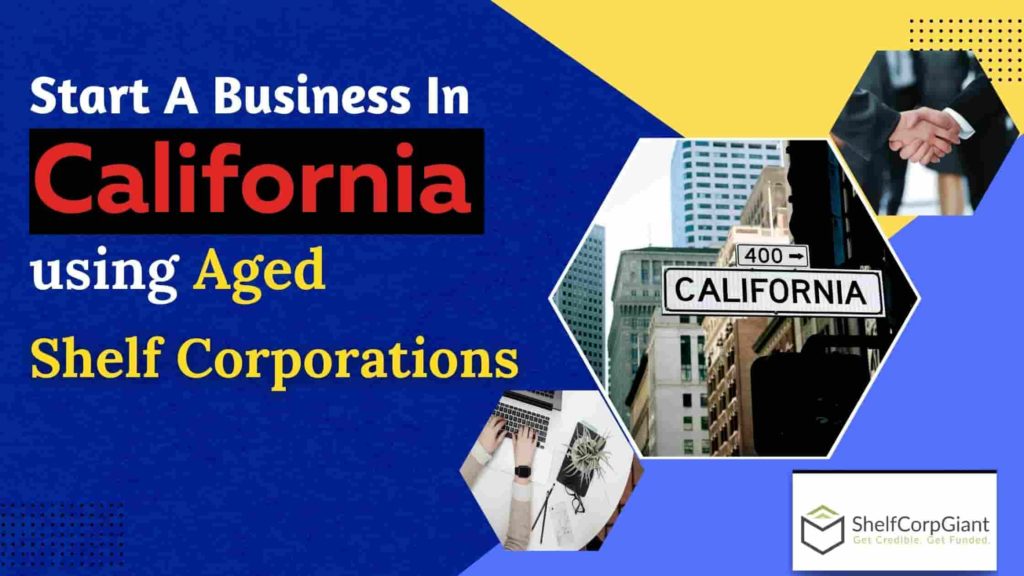 ---
Starting a brand-new business is not easy, especially if you do not have industry knowledge. You need to research what states offer the most business-friendly environment for your business. California is a tax haven for entrepreneurs with the best economic climate in the U.S. Moreover, investing in a shelf corporation will make sure that you build a more trustable and reliable image of your business in front of lenders to acquire funds easily.
---
What is a Shelf Corporation?
A Shelf Corporation or off-the-shelf company is a company that has been kept dormant and has had no activity. It is put on the shelf solely to age and increase its credibility. The older the shelf company is, the more trustable and experienced your business will appear to be.
In order to start a business in the state of California using Shelf Corporations, you need to follow the following steps.
1. Decide on a business idea.
Take your time and ponder over what business idea will suit you the best. You need to take into consideration your interests, goals, resources, availability to decide on a business idea you can be passionate about. You also need to explore the marketplace and check if your business idea will meet the needs of the people or suit the market's interests.
It is suggested that you draft a business plan after you decide on your business idea to help you stick to your goals.
2. Find your Shelf Company.
In order to own a shelf company, you need to research and find out how old you need your shelf company to be. Lenders and suppliers usually invest in a company that has been established at least 2 years ago. Decide on the shelf company based on its date of incorporation. Remember that the older the shelf company is, the costlier it will be.
3. Negotiate with the Supplier.
Many Shelf Companies come with additional services offered by the seller. Some may offer free registered agent services for the first month or a change in name. Research the market prices of shelf companies in your location to make sure that you don't get duped to pay extra. Also, while negotiating, make sure that the Shelf Company is clean. It should not have a financial history. Ensure that there are no liabilities or debts incurred by the company. This step is very important since once you own the company you will be responsible to pay the debts.
4. Sign the transfer agreement.
A contract is drawn to transfer the ownership of the shelf company from its existing owner to you. This contract is called, "The contract of sale." The shares of the shelf company will also be transferred to you once you sign the contract. The new owners of the shelf company will now become its new shareholders.
5. Decide on a business name.
You can choose to stick to the name the shelf company came with or apply for a change of name. Although, you need to make sure that your company's name is unique from the companies already registered on file with the California Secretary of State (SOS). Do a business entity name search on the SOS website for available business names. File a Name Registration Request Form to reserve an available name for 60 days. If you plan on conducting your business online then it is suggested that you register your business as a domain name.
Also Read: HOW TO START A BUSINESS IN THE STATE OF NEVADA USING SHELF CORPORATIONS
6. Change the shelf company's existing registered office address.
The Shelf company comes with its existing registered office address after purchase. You may want to ask the seller to change the registered office address to your business's office address if you do not wish to keep the existing address. This is a very important step and, if neglected, you get charged for using their address.
7. Register yourself as the director.
You need to register yourself as the director in order to open a business bank account in the business's name.
8. Apply for California permits and licenses.
You need to apply for the following permits and licenses to conduct business in the state of California.
9. Tax Registration.
To sell goods in California, you will need to register with the Board of Equalization (BOA) to obtain a seller's permit. You can also register online on the BOA's website. If your business is hiring employees, then you need to register with the California Employment Development Department (EDD) for employer withholding taxes. Register online on the EDD's website.
10. EIN.
If your business is separately taxed from you or has employees, then you must obtain a federal Employer Identification Number from the IRS. Even if you are not required to get an EIN, it is suggested that you do so for business reasons. Banks will ask your EIN for opening a business account, other companies that you collaborate with also ask demand for EIN.
11. General business license.
It is a must for every California Business to obtain a general business license from the state where the business is located.
12. Regulatory permits and licenses.
These include areas such as health and safety, building and construction, the environment, and specific services and industries. These are usually issued by state agencies. Check the state's CalGold website for more information and step-by-step guidance about the licenses and permits your business might require.
13. Professional and occupational licenses.
This includes people who work in various fields. Check the state's CalGold website for more information.
14. Pick a business location.
Pick a business location in the state of California and check local zoning regulations. You need to consider the needs of your customer to pick the right location. Before committing to a location, take time to calculate the costs of running your business in the desired location.
15. Register to file for taxes.
California taxes all kinds of businesses. This includes corporate taxes and franchise tax. Check California State Business Tax for more information about state business taxes in California. Moreover, apart from California taxes, check for federal income and employer taxes.
---
To conclude, California is booming in the economy sector and there are many opportunities available for new entrepreneurs. Skip registration and save time by using a shelf corporation for your business. A shelf corporation is a smart idea for businesses to acquire easy funds and build a professional image in the industry.
Also Read: HOW TO EASILY START YOUR BUSINESS IN THE STATE OF WYOMING USING A SHELF COMPANY