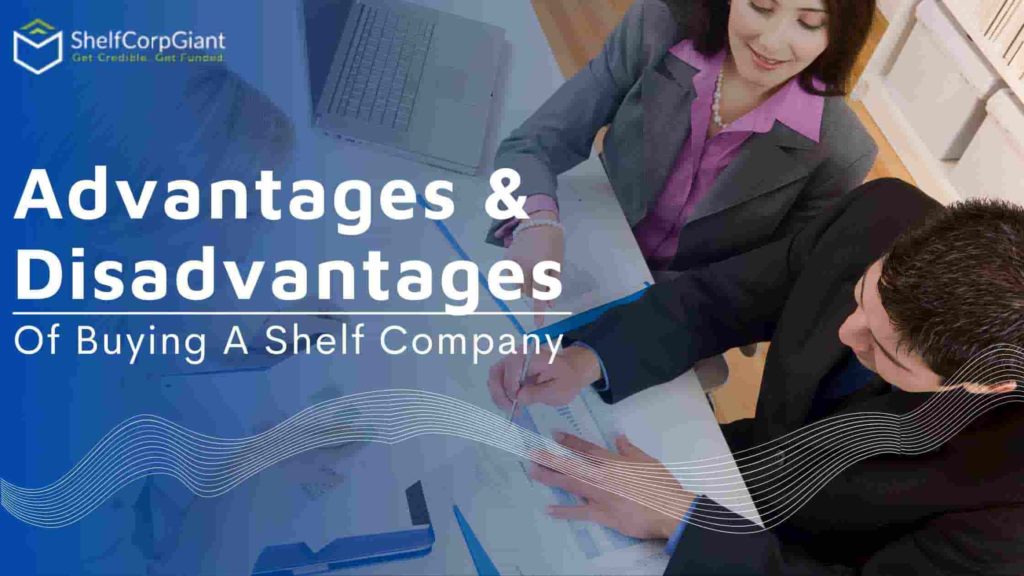 A Shelf Corporation is a company that was registered earlier but didn't involve in any business activity. Also, a shelf company does not have any liabilities and assets attached to it. In simple terms, an aged corporation is a ready-made company that is waiting on a shelf to be purchased by a buyer who needs to start a new business.
Shelf Company aims to get old for a certain period of time so that it can provide an instant time business to the company's owner.
---
A shelf company is often created for four primary purposes:
Time consumption- Any company can take several months to get incorporated. Hence, a shelf company saves the time spent incorporating the company and provides a greater scope towards the company's development.
Smooth and straightforward procedures- An aged company can help the business owner avoid all sorts of hesitations for previous operations by being used for a specific time. Hence, the owner can focus on the new projects instead.
Faster process- Aged Companies guarantee the speed. It means that the owner isn't required to indulge in any application procedure before initiating the business.
Ageing- The person who creates the shelf company allows the company to get as old as possible so that all the ages of shelf companies can be available in the market.
---
What are the advantages of buying a Shelf Company?
Purchasing a shelf company is often beneficial for any business owner because it can make the business appear trustworthy in the eyes of clients and suppliers. Let us discuss the top 5 benefits of buying a shelf corporation:
Getting new suppliers and contracts- An aged company is already registered with the Companies House, and hence, it gives an image of longevity to your company. In other words, when you start your business, it often becomes difficult to secure the contracts because your company is relatively new. But, buying a shelf company to begin with business can help you gain instant trust from the suppliers because it promotes a more professional image.
Easier approval of business banking- Running a business smoothly is equally vital as forming the company, and hence, business banking is an essential part of running the business. You are required to open a business bank account to build a professional image. It becomes a lot easier to approach any bank for credit cards and business account with the shelf company. It is because of the reason that banks are more inclined towards the older company to make investments.
Boost up the client confidence- The most critical requirement for any business is to build the confidence of clients in the business because confidence and trust indeed play a crucial role in the success of the company. Research has shown that owning a shelf company can drastically boost the client's confidence in the business because a shelf company gives an impression of longevity.
Save your time- Shelf corporations can potentially save a lot of your time because you aren't required to incorporate a company from scratch. When you start a business, time is indeed an essential factor that decides your business's success. Buying a shelf company can drastically save time because the company is pre-registered. Hence, you can start your business the very day you buy the aged company.
Bidding on government contracts- There are many government contracts that require a specific time in business for a company to bid on them, and buying a shelf company would provide your business with the necessary time in business. Hence, an aged corporation can allow you to bid on government contracts very quickly.
Also Read: How to set up an Inc. using Shelf Company
---
What are the disadvantages of buying a Shelf Company?
Scammers are growing- Scams are prevalent among shelf companies. It means that you might get scammed to pay an enormous amount for a company that is not worth the amount. So, you are required to be careful before buying a shelf corporation from any seller. Keep in mind that the seller must be trustworthy. ShelfCorpGiant is the leading website for shelf corporations that you can trust for buying your shelf company at an affordable price.
Age is not enough to get bank loans- If you are buying a shelf corporation just for the purpose of getting loans, then you must re-think your decisions because age is not the only criteria that banks look upon while providing you with business loans. Instead, your business history, revenues and tax returns are more important for bank loans.
Significant Investment is required- Buying a shelf company can be costly for many business owners. Note that the company's age is directly proportional to its cost. It means that you are required to pay more for an older company, and hence, it might require a significant investment in most cases.
Beware of hidden liabilities- We know that a shelf company should not be in any active business, and it shouldn't have any asset and liability associated with it. But, in some cases, the shelf company might be having some hidden liability that you couldn't figure out while purchasing such a company. You need to be careful about that, and a trusted seller can potentially save you from such fraud. Note that

ShelfCorpGiant

is such a website that you indeed can trust for a clean shelf company.
Risks of failure- Sometimes, shelf companies possess a higher risk of failure compared to the newly incorporated company. Although the rate of failure of a shelf company is pretty less common, we can still not ignore it.
Shelf companies can be highly beneficial to start a business because they can provide you with many advantages. But, always keep in mind that a trusted website and seller is a must to purchase the right aged company according to your requirement.
Also Read: How to bootstrap your business using Shelf Corporation