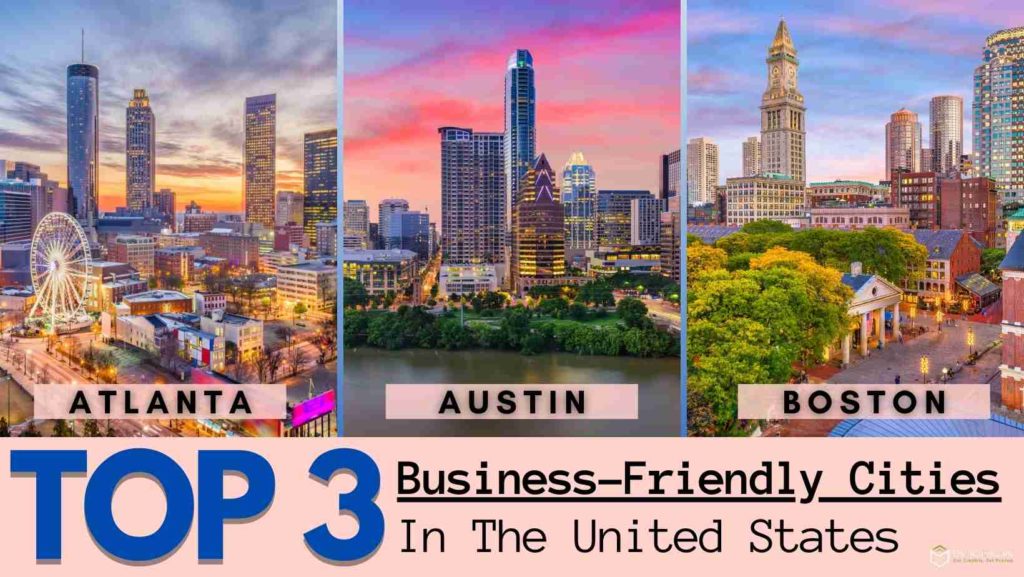 If you are willing to start a new business in the United States, then you will have plenty of choices to the cities where you can start the business. In today's time, the economy of the United States is made up of more than 30 million small businesses.
Although all the cities of the United States offer potential benefits to the entrepreneurs, but there are few cities that have additional technical advantages with a more business-friendly environment. In this report, we shall enlist the top 3 cities of the U.S., that according to us, is the best to start your entrepreneurial business.
---
Atlanta
Located in Southern U.S, Atlanta is the top city on our list to start a new business.Atlanta's economy is booming due to the movement of numerous companies to the city. It is always the most attractive city for business owners. Let's briefly understand why is it our favourite city for entrepreneurs:
Very affordable- The city offers the most affordable housing facilities, which is one of the essential criteria when considering moving to a new city. Atlanta's housing market is growing, and the area is pretty affordable for business owners.
The supportive business community-Atlanta offers a very supportive environment for the growth and success of small businesses, where several local organizations serve the entrepreneurs for their growth and benefit.
Business-friendly surroundings- The most important thing to start a new business is the business-friendly environment, and the city is situated in the tax-friendly state of Georgia. Hence, it provides a business-friendly environment for all sorts of entrepreneurial businesses.
Extraordinary educational opportunities- University graduates are the local talent that can help the business owners in several ways, and Atlanta is indeed the home to many major universities and colleges.
Also Read: Starting your business in North Carolina using Shelf Company
---
Austin
According to our list, Austin is the second most city that has an excellent environment to support all sorts of businesses. Austin city has been named the best city to start a company by many magazines for many years continuously. Austin is a progressive entrepreneurial city with an environment that is very much business-friendly. According to the data, Austin had excellent startups and an impressive growth rate for entrepreneurs. Let's briefly explore the reason for the business-friendly environment of Austin:
Innovate Austin Program- This program is implemented by the Austin Chamber of Commerce to offer thought leadership and strategy. This program is one of thereasons for such an excellent business environment of the city because it potentially boosts the visibility for homegrown businesses and foreign investors.
Diversity- The city offers a wide variety in the technology sector, which is indeed the dominant sector in any business.
Startup friendly environment- What makes Austin the startup-friendly city is its population. According to the report, Austin's more than 40% population is of working age. It means that the city has more people that can actively contribute towards the growth of any business.
Most favourable tax structures- Tax structure is one of the crucial things to consider while selecting the state of incorporation of the business. Austin offers the best tax policies which the lowest tax rates in the entire country, and hence, it is the best city to start a new company/ business.
---
Boston
Boston, the top 3rd city with an excellent business environment, has a lot to offer to any new company. According to a report, Boston was ranked the highest among the top 25 startup hubs in the United States. Let's understand why you should consider Boston to start a new business:
Quality of living- When it comes to quality of life, Boston is among the cities that offer the highest quality of life for the residents. It is indeed the crucial factor to consider when you decide to start your company in Boston.
Many Startup programs- There are more than 50 support programs that help build a startup. Through these programs, business owners can find access to industry experts, a community of peers, offices and mentorship opportunities.
Funding opportunities- Boston has numerous federal and national agencies that are willing to provide financing options to small businesses. Business owners can quickly get loans to purchase equipment, new business property or get working capital for growing the business.
Excellent networking- Boston offers plenty of networking opportunities through which business owners can connect with the right people for growing their businesses.
---
It is a lot easier to start a business in the top 3 cities in the U.S. with the help of ShelfCorpGiant:
Now, you know that the cities mentioned earlier have the most business-friendly environment for any kind of business. But, it is always every time consuming if you are planning to start your business from scratch. Keep in mind that incorporating a business is actually a lengthy process. Also, it always takes time to build a reputation in the market. Not everybody can afford to lose such precious time to get enough credibility in the eyes of investors and consumers.
Instead, in our opinion, you can start your business using a shelf corporation. Buying an aged company provides you an instant time in business, i.e., your business looks older depending upon the age of the shelf corporation which you are buying. Now, when your company is older, people, including your consumers and investors, trust your company more. Hence, it instantly opens up the gates of opportunities for your business, including credit opportunities, bidding on government contracts, and many more.
ShelfCorpGiant is one of the most significant websites that offer buyers credit ready shelf companies and help them get instant time in business. It helps start the business in many cities in the United States, including the ones that are mentioned above.
Instead of wasting considerable time to make your company credit-ready, it is beneficial for you to consider purchasing the credit-ready shelf company in Atlanta, Boston and Austin by ShelfCorpGiant. Also, they help your company in building a Paydex Score of 80 in 45 to 60 days that can provide your business with additional added advantages.
Also Read: How to start a business in Texas using a Shelf Company