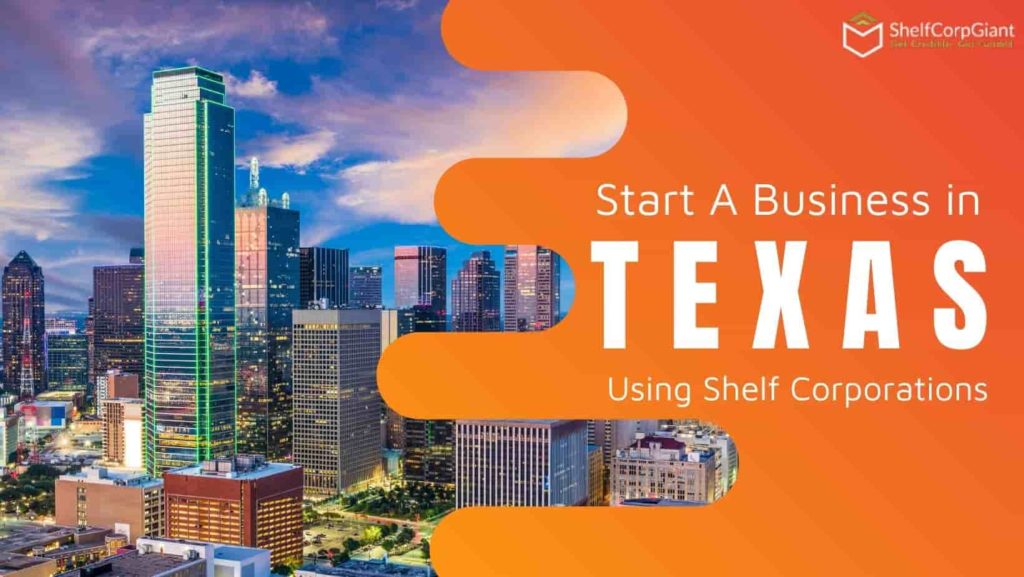 ---
Texas is considered one of the best states for business due to its business-friendly nature. Since there's no corporate or income tax, Texas has become quite popular among entrepreneurs. If you are planning to start a business in Texas, you should also consider purchasing a shelf company to help your business get off the ground.
---
How can a shelf company help your business?
An aged corporation that is put on the shelf to age and increase its credibility by building a history of longevity is called a shelf corporation. Buying a shelf corporation is one of the smartest ways to get your business off the ground while saving time during the initial stages of setting up a business. A shelf corporation will also give a professional image to your business for when you want to approach investors or build business relationships with other companies.
---
Let us look at steps to starting a business in Texas using a Shelf Company.
1. Choose a business idea and decide on a business structure.
The first step is to research the industry and market and choose a business idea. You can research popular business ideas in Texas. Finding the right business idea that caters to the audience can be quite challenging. You also need to decide on a business structure. The 5 popular options are Sole Proprietorship, C corporation, S corporation, Partnership, and Limited Liability Company (LLC). It is suggested that you opt for an LLC since it has fewer risks than the other options. You need to be very sure of your chosen business entity since it will have legal and tax implications.
---
2. Choose a shelf company and negotiate with the seller.
Now that you have come up with a business idea and decided on a business structure, it is time to choose your shelf company. Investors and lenders are usually interested in business relationships with companies that have been at least established for two years or more. Remember, the older the shelf company is, the more expensive it will get. Once you find a shelf company that is best suitable for your industry and market, you can negotiate with the seller. Research rates of shelf corporations to make sure that you are not charged more than what the shelf company is worth. Shelf Corp Giant provides the most affordable and trustworthy shelf corporations. Also, check out additional services provided by the sellers along with the purchase of a shelf company.
---
3. Sign the contract of sale
Once you finalize your shelf company, you will have to sign a transfer agreement to complete your purchase. A transfer agreement or the "Contract of Sale" is drawn up to transfer the shares of the shelf company from its existing owner to you. Once you sign it, you will become the new shareholder and the owner of the shelf company.
---
4. Come up with a business name.
Once you sign the transfer agreement, you need to decide what to name your business. Make sure that the name you choose isn't already in use. It should be unique and creative. You can use a business name generator to come up with ideas.
Also Read: AMERICA'S TOP 3 STATES FOR BUSINESS
---
5. Register your Texas business
After completing the above-mentioned steps, it is time to register your Texas business. To register a business in Texas, you need to hire a professional registered agent. Make sure that you file the Articles of Organization with the Texas Division of Corporations. Also, make sure that you file your DBA (Doing Business As) in the county where your business is located.
---
6. Obtain an Employer Identification Number (EIN).
Employer Identification Number or EIN is like a social security number for your company. If you own a corporation or an LLC, you will be required to have one. Your EIN is required to avoid identity theft. Check with the IRS to apply for your company's EIN. Although an EIN may not be necessary for every company, it is suggested that you apply for one since banks and lenders will always ask for it.
---
7. Open business bank accounts
It is advised that you keep your business and personal expenses separate, and for that, you need to open a business bank account. Apply for business credit cards to build your company's credit profile.
---
8. Apply for permits and licenses.
After registering your company and opening a business bank account it is time for you to apply for licenses and permits to conduct business in the state of Texas. Licenses and permits authorize your corporation to do business in your city or county. Research and check if you are required to apply for state taxes and permits, or check if your city requires any particular license or permits as part of the business licensing process.
---
9. Apply for business insurance.
There are many types of insurance available for businesses and, they cover everything from product liability to company vehicles. Research business insurance in Texas and choose the one that best suits your business.
---
10. Marketing and Branding
If your company does not build its visibility then it will not be noticed by your target audience. Once you have set up the company for success, it is time to get the word out. It is advised that you come up with a marketing plan to stay organized with your marketing strategies.
---
11. How can Shelf Corp Giant help?
Shelf Corp Giant supplies aged shelf corporations at the most affordable rates. These packages are credit-ready hence you do not have to worry about building credit after purchase. Along with shelf corporations, Shelf Corp Giant also offers many programs to help get your business off the ground. These programs include 80 paydex programs, Reseller, and Referral programs.
To conclude, Texas is a tax haven for entrepreneurs and business owners. Starting a business is not an easy process. It is a lot of work and hustle. A shelf corporation will help your company during the initial stages of your business as well as help your business maintain a professional image throughout.
Also Read: HOW TO START A BUSINESS IN UTAH USING SHELF COMPANY