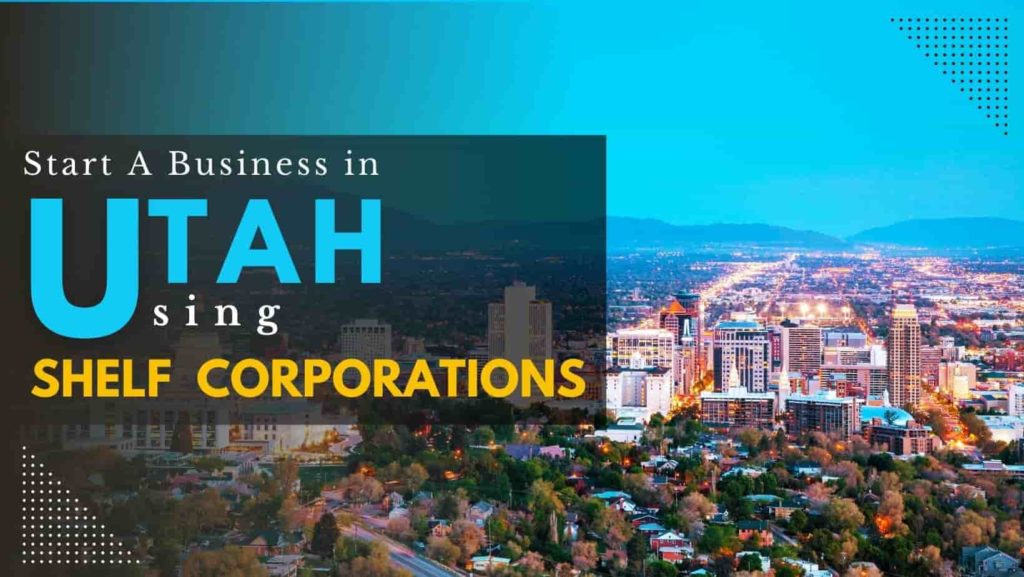 ---
Utah is one of the most business-friendly states in the U.S. It boasts a business-friendly legal environment. Utah is also one of the only 10 states to hold a AAA bond rating from all the three renowned rating companies. When it comes to business, Utah outperforms all states. If you are considering starting a business in Utah, you should also consider purchasing a Shelf Company.
---
Why you should invest in a Shelf Company
A Shelf Corporation or an aged corporation is an off-the-shelf company that is kept on the shelf to purposely age it. The older the company is the more credible it is. You can also conveniently skip the initial stages of setting up a company. You no longer need to deal with the hassles of documentation and paperwork when starting a new business. In simple words, a shelf company will save you lots of time and give your business a more professional look.
---
Let us look at the steps of starting a business using a shelf company in Utah.
1. Decide on a business entity
The first step is to decide on a business structure. Utah offers a variety of options for entrepreneurs to choose from. The five types of business entities available to entrepreneurs in Utah are Sole Proprietorship, Partnership, Limited Liability Company (LLC), S corporation, and a C corporation. This is a very important step, and you should research your option before deciding on one since the type of structure you select will have legal and tax implications. If you are still confused, then you should consult with a business lawyer or an accountant to discuss your options and financial and legal implications.
---
2. Find a shelf company and negotiate with the supplier
Once you have decided on a business structure, you need to now find a shelf company that best suits your business needs and interests. The credibility of a shelf company depends on its age. Moreover, the older the shelf company, is the more expensive will it be. Most lenders and suppliers do not consider businesses that are younger than 2 years old. Research the business environment in your industry and find out how old your company should be to be considered credible and professional. Once you find a shelf company best suitable for your business, you can negotiate with your seller. Look out for additional services offered with the purchase of your shelf company. A lot of sellers offer free name change or free registered agent service for the first few months. Make sure that the shelf company is clean and does not incur any debts or liabilities before you seal the deal.
---
3. Sign the transfer agreement of your shelf company
To transfer the ownership and the shares of the shelf company from its existing owner to you, you will have to agree with the transfer agreement. A "Contract of Sale" will be drawn up. Once you sign the Contract of Sale, you will become the new shareholder and the owner of the shelf company.
---
4. Change the business name.
Now that you have signed the transfer agreement, it is time to come up with an eye-catching name for your business. You can always stick with the existing name of your shelf company. You will have two names; a corporate name and a DBA (Doing Business As). To make sure that your chosen business name is already not in use, you should visit the Utah Secretary of State's Website and search for the business name you want to use. Register your business name with the state.
Also Read: How to start a business in Delaware using an aged company
---
5. Register your business in Utah
Once you are done with the above-mentioned steps, you will have to register your business with the Secretary of State's office. It is suggested that you do prior research about the requirements since they may differ depending on different business types. Make sure that you have everything covered by checking the registration requirements for your business. This is important to secure business financing, get a business bank account, and more. Do not take any risks and hire a business attorney to make sure that you set up your business properly according to the state's laws.
---
6. Apply for your federal EIN
The next step is to obtain a federal employer identification number (EIN). It doesn't matter which business entity you choose; you will be needing an EIN to conduct business. Your EIN will be your tax ID number, and you'll require it to file your business taxes. You might also need to provide your EIN to customers and vendors. Your EIN will be issued by the IRS. To obtain an EIN, visit the Utah State Commission Tax website and provide the necessary information to the state.
---
7. Open a business bank account.
You will now be able to open a business bank account once you have obtained your EIN. Apply for your business credit card as soon as possible to make sure that you have the buying power to purchase office supplies. A shelf company will prove helpful when you apply for a business credit card. The history of longevity provided by a shelf company will make your business look more trustworthy in front of investors.
---
8. Apply for necessary licenses and permits
Before you conduct business in the state of Utah, you are required to obtain your business license and any other necessary business permits. Operate within regulations since most businesses are regulated and wouldn't want to pay penalties and fees.
To obtain more necessary information about licensing and permit requirements in the state of Utah, visit the Utah Government website.
Once all this is done, you need to start working on marketing and visibility, you will also need to apply for insurance. To conclude, starting a new business in Utah can be a very stressful and long process especially if you aren't familiar with the state's business laws. A shelf company can help your business during the initial stages and assist in business growth by giving your business a professional and experienced image. Shelf Corp Giant is a well-known shelf company provider. The reviews and customer experiences are a testimony of the team's excellent service.
Also Read: How to start a business in the state of California using aged shelf corporations